Fernando Belasteguin and Arturo Coello won the first World Padel Tour tournament in Miami. In an exclusive interview, Bela talks about his new energy gained from visiting his family in Argentina, sharing the first victory of Arturo Coello, and that he agrees with Juan Lebron and Alejandro Galan´s criticism of the World Padel Tour after the Miami Open.
— In padel, everyone can be replaced, except the players, "El Rey" says.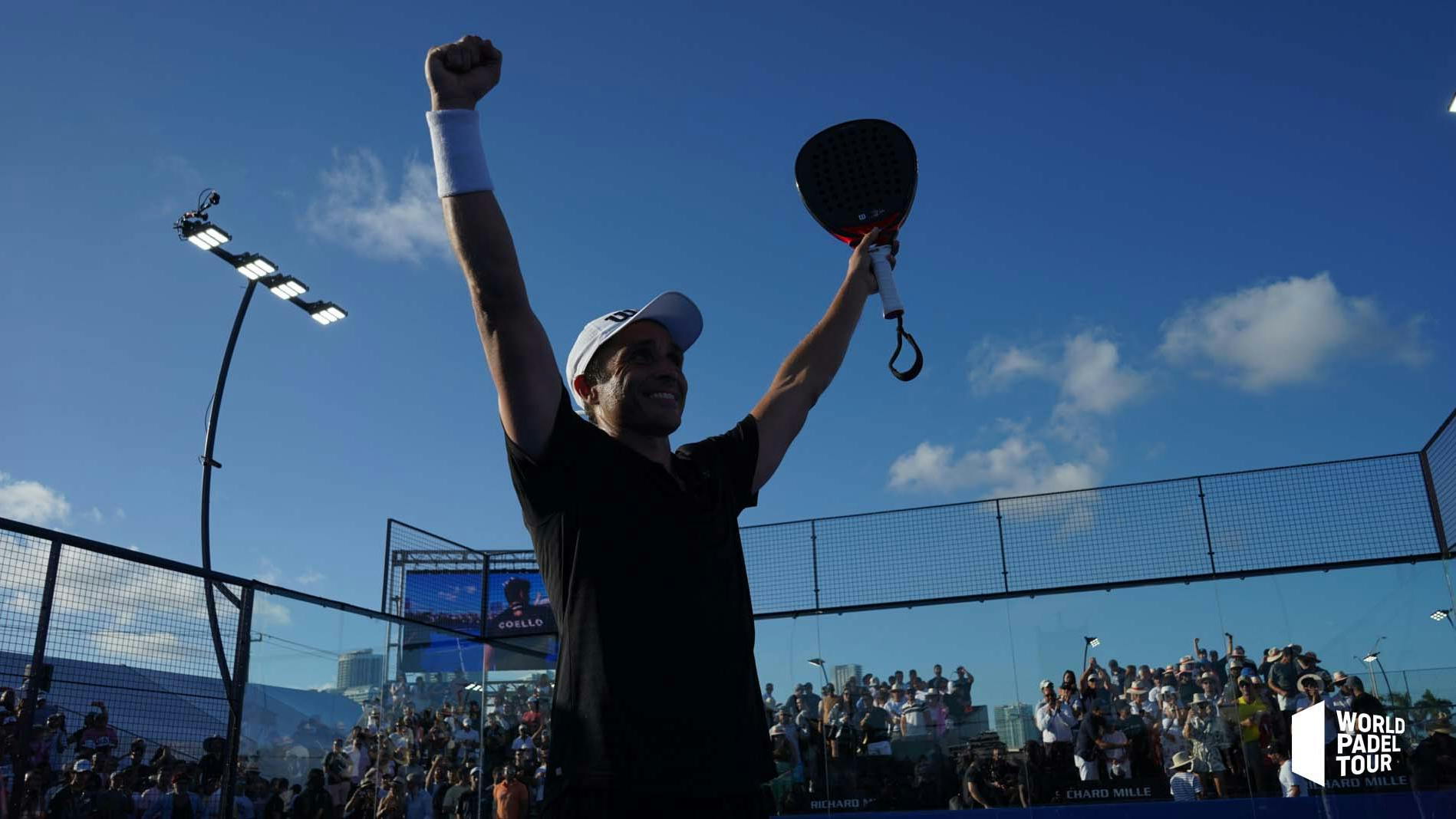 42-year-old Fernando Belasteguin took his 227th title in Miami, while his partner Arturo Coello won his first and made history as the youngest ever to win a World Padel Tour title at just 19 years old. 
— Personally, it was very nice. Sharing the victory of the first tournament in your partner's career is something you will remember for a lifetime, so I´m very happy, says Fernando Belasteguin.
Fernando Belasteguin has now won 227 finals in 278 attempts. An unbelievable number, but he doesn't want to think about them yet. 
— The numbers in sports remain for life. I have won 227 tournaments in 278 finals. But right now, I can´t enjoy them; I have to keep working and improving. To play with 20-year-olds, and being 43, I always have to improve a lot to remain competitive. I do not doubt that when I retire, I will enjoy them a lot, Bela says. 
"He forces me to improve constantly."
He remembers the first time he won a great tournament, as Arturo Coello did last weekend.
— It is always special to win the first tournament; I remember when I did it when I was 17 years old. For Arturo to win the first tournament in such a competitive circuit was very nice. But we will enjoy it later. 
It wasn't the first time "El Rey" won with someone that set a record as the youngest of all time to win a title. 
— It had happened to me before, with Agustín Tapia. He was the first player who won a tournament being so young at that time, and then the youngest player to win a Master's final. Now Arturo took the record from Agustin, which is something he will remember for all his life, Belasteguin says. 
He also pays tribute to his partner, 19-year-old Arturo Coello, who produced a magical performance at the Miami Open. 
— Arturo is much younger than me, and he has a bright future ahead. He makes me a better player; he forces me to improve to be able to compete alongside him constantly, Fernando Belasteguin says. 
"Many things that are not being done well"
The aftermath in Miami, however, came to be about more than just the title. When the world's best team, Juan Lebron and Alejandro Galan, were eliminated in the Round of 16 against finalists Javi Garrido and Lucas Campagnolo, they were highly critical of the World Padel Tour organizers and the crowd who they mean insulted both players.
Criticism that Bela himself agrees with. 
— Both Alejandro and Juan complained with very solid arguments. Many things are not being done well and should be improved, related to the players.
He continues on the same topic: 
— I have always said it very clearly. In professional padel everyone can be replaced: the organizers, the circuit, everything. The only essential thing is the players, and right now, we are very united thinking about our future. I do not doubt that the future of padel will be spectacular because it´s the first time that the players are united thinking of a promising future as an objective. I repeat: in padel, everyone can be replaced, except the players, Fernando Belasteguin says. 
"A source of energy"
Fernando Belasteguin and Arturo Coello have trained a lot during the pre-season in separated places. 
Bela is based in Barcelona and Arturo Coello in Valladolid for the most part. 
— We have met in Madrid and Barcelona to train together and to play some matches. But we have worked focused all the time, taking into account what we have to improve. 
During the break, Bela has also been at home in Argentina with his family in his small home village of Pehuajo. 
— My trip to Pehuajo was the source of energy that I needed to continue working with the same enthusiasm of the first day, at my age of almost 43 years old. It has been two years since I last visited my family, because of covid. I needed to see them. When I got to Pehuajo and was with my parents and my family, I realized that seeing them was something I needed more than I thought, Belasteguin says. 
"The goal is to be able to compete without getting hurt."
Last year started just like this for the world's all-time best padel player and the man who has been world number one for 16 consecutive years. After an injury, however, the year became heavier. 
He and Sanyo Gutierrez separated after losing twice in the first round. After the Barcelona Open, Fernando Belasteguin decided to contact Arturo Coello to play together. 
— Because of my bad experience with injuries in the last four years, the only goal I set for myself is to compete without getting hurt this year because I know that if I am physically well, I am still a very competitive player, he says. 
There has also been a shorter pre-season this year, and the schedule includes more tournaments. Partly the World Padel Tour's full schedule and the new tour organized by the International Padel Federation (FIP), backed by Qatar Sports Investment (QSI) and the Professional Players Association (PPA). 
— The pause between tournaments will be an essential point, as it´s the physical preparation we did during the season. This year, because of the WPT and FIP circuits, we will play many tournaments. 2022 and 2023 will be two years with many games since the two circuits will coexist; we will have to fulfill the WPT contract and play the FIP tournaments in the weeks that we don't have the WPT ones.
"By 2024, everything will be more organized". 
When players' contracts with the WPT expire after the 2023 season, it will be more organized, Belasteguin believes. 
— The players have to be free to choose. We cannot be exclusive to anyone. So, we will have many tournaments between 2022 and 2023. By 2024, everything will be more organized and better for the future of the sport, Bela says.