Ale Galan and Juan Lebron win the final of the Alicante Open over Franco Stupaczuk and Alex Ruiz 6-0, 6-4.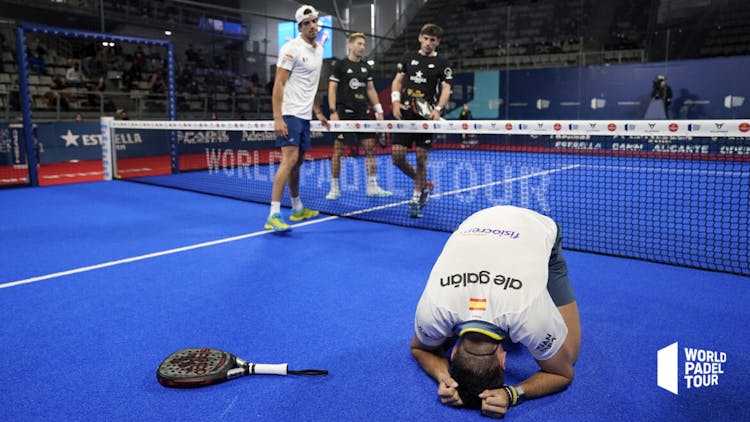 – It's been a tough week for me personally, but this gives me and my family strength, says Ale Galan.
There was never any question about it. The dominants from 2020 needed just one hour and eleven minutes to win the final of the Alicante WPT, the second event of the year on the World Padel Tour.
– It's emotional to win here. Alicante will always be in my heart, it's always a pleasure to come here. Congratulations to Alex and Franco on a great tournament," said Juan Lebron.
The world setters have certainly shown strength after the doubts that arose after their unexpected exit in Madrid. On Alicante's very slow courts, the fast-paced, hard-hitting duo was expected to find it difficult to go all the way but after the final, they can show a spotless record: zero dropped sets in four matches.
Franco Stupaczuk and Alex Ruiz have shocked the padel world at the start of the 2021 World Padel Tour season. Unmentioned in top-pair contexts, the Argentine-Spanish duo has gone all the way to two finals out of two possible. But on Sunday, neither "Stupa" nor "Captain America" reached that extreme level of excellence they showed for long stretches in both Madrid and Alicante.
At the first World Padel Tour tournament in Madrid two weeks ago, it was precisely Stupaczuk and Ruiz who surprisingly knocked out Lebron and Galan in the quarterfinals. They turned a 0-1 deficit into a 6-0 win in the third and deciding match. But in Alicante, that feat was never really close to being repeated, even though the score was 4-4 in the second set.
The world setters were on a level of their own this April weekend in Alicante - despite the slow coastal courts of the tourist town.
Lebron/Galan's road to the final in Alicante:
Round of 16
Ale Galan/Juan Lebron vs.
Javier Martinez Vasquez/Agustin Gutierrez
Result: 6-3, 6-2
Quarterfinal
Ale Galan/Juan Lebron vs.
Juan Martin Diaz/Jorge Nieto Ruiz
Result: 6-3, 6-0
Semifinal
Ale Galan/Juan Lebron vs.
Federico Chingotto/Juan Tello
Result: 6-2, 6-2